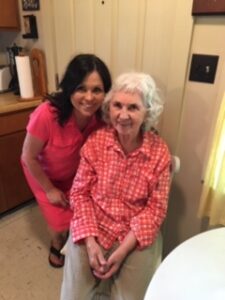 Life is like a leaf: green, colorful, fading, and falling.
It seems only yesterday my mommy, as I called her then, was thirty-three and I was five. I cried every morning of Kindergarten but she insisted I go. Overcoming tears and anxiety was important as she knew.
I have memories growing up of mommy making us fried potatoes, pinto beans and cornbread, tomato gravy and biscuits, or sometimes less. I remember discipline with tough love. She combed my hair while I complained. We played jacks and board games. Most times, I didn't win because she knew I needed to learn perseverance. Times were tough for my mother but she pushed me to grow while providing security in a home with meager means and many obstacles.   
The most impactful event for my mommy and I occurred at age thirty-five and seven. My mommy realized she was a sinner and became a born again believer leaving a legacy forever changing my life. She modeled Spirit-filled living. Love, joy, prayer, praise and worship exuded from her. From her lifestyle, I learned what salvation looked like. Mommy grew like green leaves on summer trees. 
When I became a young adult I changed mommy to mom. And I too became a born again believer. I married and made her a grandmother. She found immense joy in my children and my sibling's children as well. She enjoyed spending time with grandchildren and attending church. She also enjoyed cleaning, cooking, yard sales, time with friends, trips to Muddy Pond (nearby Amish community), reading, crossword puzzles, playing dominos and watching game shows. During these years she lived a bright and beautiful life, like colorful leaves on fall trees.
At eighty-three and fifty-five much has changed for mom and me. Her life is fading as her body and mind decline, so I strive to provide her the security she once gave me. Her life is fading like leaves on late fall trees.
The greatest display during our lifetime is that of salvation, spiritual growth and genuine joyful living. God gave His only begotten son Jesus and if we realize our condition as sinners and accept him, we will make the greatest impact on our children and others. Are we living lifestyles teaching others how to grow and produce colorful prosperous years before we fade and fall back, like leaves, to the ground in which we came?
But we are all as an unclean thing, and all our righteousnesses are as filthy rags; and we all do fade as a leaf; and our iniquities, like the wind, have taken us away. 
Isaiah 64:6