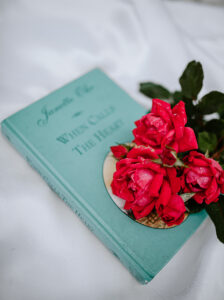 He that is faithful in that which is least is faithful also in much:…. Luke 16:10
There is something special about browsing through shelves of books in search of a good read. Thankfully, my mom was faithful to instill that sentiment deeply in my soul with frequent visits to our local library.
     In the early '70s my brother and I often searched lower shelves filled with picture books. We enjoyed flipping through hard covers choosing books to check out and take home. Later that decade, searching along the wall to the right at the back of the library was necessary. The Little House, Nancy Drew and Hardy Boys series, among others, where located in this section.  My brother Greg and I spent countless hours, especially during the summer months, with books in our hands and our minds engaged and growing while reading.
     When entering the library we were always greeted by Mrs. Christene Barton, however she left us to browse unless we sought her assistance. Our choices made, we walked quietly to her desk where she pulled the library card from the book sleeve and manually stamped the due date.
     Mrs. Barton faithfully kept her position as librarian for Fentress County from 1966 until her retirement in 1996. Both, my mother and the librarian, held a place of high esteem in my childhood heart.
      Our mother's faithfulness to library visits and Mrs. Barton's faithfulness to her job led to a lifetime love of reading for Greg and me. We did well in school, made good grades and achieved high reading level scores. My brother and I experienced life changing milestones due to reading. But I have been most changed by reading one particular book, the Bible.
     Reading God's account of Jesus sacrificial death on the cross and accepting the fact we are sinners, who need saving by grace through faith, is life changing. Understanding repentance, prayer, living, and loving are revealed as we study the Bible. The Biblical action of surrendering ourselves to the filling of God's Spirit for His service brings change. Furthermore, while reading we discover many more precepts for continued growth! God is faithful to carry out His truth so let's be faithful to read it.
    May we be certain to instill the love of reading in our children. But above all let's be faithful women, engaging our minds and growing as we spend time studying and living God's word while teaching our children to do likewise.
Study to shew thyself approved unto God, a workman that needeth not to be ashamed, rightly dividing the word of truth.
2 Timothy 2:15