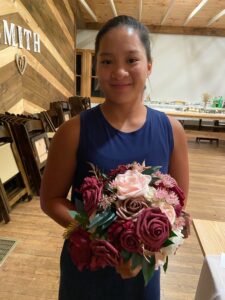 Shelby stood strumming her guitar. Her thick black hair framed her beautiful face as she worshiped. I was moved by the thought of how she was particularly placed in the Grimm family from Jamestown, Tennessee.   
     Mary attended Kristin Sweat's adoption class at the Women of Hope Conference on September 11, 2010. Only three listeners chose to participate due to the narrow subject matter. Mary came to support her friend, so she thought. By the end of the class God had clearly spoken to Mary's heart to adopt. Tears flowed and Mary knew what she must do. Her husband Jeremy agreed as God was also speaking to his heart about adoption.
     God performed many miracles to confirm His plan. Truly, if the LORD BE GOD read how HE PROVIDED: a Hawaiian trip was refunded and a divine meeting occurred as Mary met the director of Show Hope in a Nashville, Tennessee bathroom! A three thousand dollar grant was in the hands of the Grimm family the NEXT DAY!  Every penny it took to adopt Shelby was raised through the generosity of family and friends.
     Sometimes God works quickly, as in this case.  The following time line is nothing short of miraculous: the adoption process was started October 2010, matched with Chen Yilin April 27, 2011, and the Grimm family arrived in Chengdu, the capital city of Sichuan, China to meet her November 20, 2011. THAT DAY "One Beautiful Jade", age four, left the orphanage with the Grimms. The family departed for America December 3, 2011.
     This departure was not without challenges. The initial meeting involved frantic cries from Yilin. She had been in states care since infancy and endured three long hospital visits with no adult to care for her. She stashed food in her pockets and felt more secure with a small flashlight through the night. Mary's mother heart vowed Yilin would never be hospitalized without her and to do whatever it would take to give this precious child a good life. But Mary's greatest desire was to see Yilin come to know the Lord as her Savior.
     May 19, 2021, Yilin a.k.a. Shelby Grimm was birthed into the family of God! Her first adoption date insured a secure and loving home but her second adoption date secured an eternal heavenly home. Shelby no longer needs the flashlight at night. Her sweet soul is now filled with the light of God, because she is HIS CHILD.        
     Kristin's adoption class He Setteth the Solitary in Families, was complete that day with three attendees and a perfect responsive heart of ONE.  Yilin's life was forever changed from isolation to adoption. We pass people every day, saddened by isolation, needing adoption into God's family. Will we be like Mary and Jeremy walking in obedience, letting God lead us to the "ONE" whom needs the gospel message?   
    God took one solitary soul and placed her in the Grimm family by His divine plan to birth her into His family. The most important work in this life is investing in others, praying and believing God to save souls. We may never travel to China seeking adoption, but we have family, friends and neighbors who need adoption into God's family. Let's obey.
God setteth the solitary in families: he bringeth out those which are bound with chains: ….. Psalm 68:6
November is National Adoption Month
To read more about the Grimm family and Shelby's adoption visit:
https://thegrimmfamily-mary.blogspot.com/