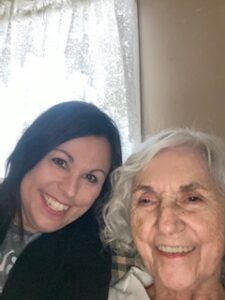 New Normal
     Mom's normal is a new and so is mine.
     My mom is aging and with this life stage comes days of mental and physical restrictions. Her state of mind each day affects my daily lifestyle as I am her primary caregiver. I'm committed to Jesus, family, mom, ministry, and writing which can be overwhelming. I have no idea what each day will look like this year, but I expect new growth and less self-focus.
      We're not alone in our new normal as five percent of people over sixty-five and twenty to forty percent over eighty-five experience dementia and over ten percent of people over sixty-five experience alzheimeria's. The elderly effected by these disceases undergo change as well as family members designated to caregiving. While celebrating Christmas at the end of 2022 and New Year's Day in 2023, a lingering sorrow for my mother, and others, pressed upon my heart. But I find consolation in God's word as we all can.
     Jesus promised His disciples their sorrow of His leaving would soon turn to joy! He used a comparison in John chapter 16 for our understanding.  Women travail with sorrow through labor and delivery but afterwards the joy of their new baby makes them forget their prior anguish. We will experience sorrow in this life, but we have the promise of seeing our Savior face to face and our heart will rejoice. This anticipated joy cannot be taken away.
     Mom and I, along with others, are experiencing sorrow. But joy will soon be ours. Jesus is coming soon and our new normal will by eternal joy in His presence.
And ye now therefore have sorrow: but I will see you again, and your heart shall rejoice, and your joy no man taketh from you.
John 16:22