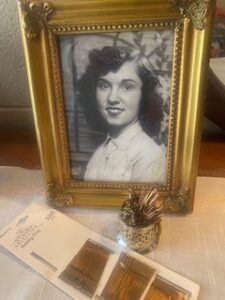 My beautiful mom is nearing the end of her golden years. She has always been smart, beautiful, loving, and kind. Reading, playing games, solving cross-word puzzles, and watching game shows furthered her limited childhood classroom education. Her love of reading was passed to my siblings and me and to my children and grandchildren.
    Parenting, poverty, and hardships never stole my mother's love of words. Visits to our local library and yard sales supplied her books providing escape and adventure and exponentially expanded her vocabulary. She has always loved reading.
     Above Mom's love of reading came her love for Jesus and His word. She was born again when I was eight and lived a Godly life before me. By her example, I witnessed what it means to know Jesus. Church attendence, shouts of praise, tender hearted acts of kindness, acts of service, prayer, and Bible reading are fruits of her conversion. She is worthy of honor so I am choosing to honor her. 
       Honoring our parents is biblical. Jesus honored His mother Mary. He obeyed her at age twelve as he left the temple, returned home, and subjected Himself to her parental authority. Mary asked Him to supply the wedding guests at Cana with wine and He did. 
      As Jesus suffered on the cross He remembered His mother Mary. He appointed the Apostle John to become her substitute son. John was faithful to Jesus as he recipicated His love. John may have missed some ministry moments with the other apostles, but he later penned first, second, and third John and the book of Revelation. 
     It may seem a small work to care for our mother's, but Jesus deemed it an honorable ministry. John's assignment didn't hold him back but allowed him the opportunity to honor Jesus by loving Mary.   
     If you have an elderly mother who is still living spend time with her, love her and care for her. Don't let the golden opportunity to honor pass you by.
Honour thy father and mother; which is the first commandment with promise;
That it may be well with thee, and thou mayest live long on the earth.
Ephesians 6:2 and3