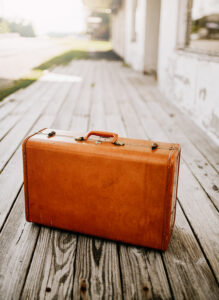 Thanksgiving evokes thoughts of actively thanking God for His blessings. Food, shelter, clothing, freedom and salvation might come to mind. But does the act of thanksgiving require more?  
The word "thanksgiving" means the act of giving thanks and is found nine times in the KJV of the Bible. Hebrews 13:12-16 teaches what it means to express thanksgiving. Jesus suffered without the gate or left His heavenly home to walk among men. He faced persecution, denial and death in order to sanctify us by his own blood. 
We too are commanded to "go forth" from our camp bearing His reproach. Having no permanent dwelling place here on earth, we seek a continuing city to come-heaven. So will we leave the security and comfort of our homes in order to follow in the footsteps of our Savior? 
Maybe thankfulness to God is best shown through sacrificial living. Will we sacrificially "go forth" with a willingness to bear Jesus' reproaches? If so, we must be willing to sacrifice our selves. We may suffer persecution, denial and even death as we communicate his name to the lost and dying world. 
Perhaps people are more draw to Jesus when they witness our sacrificial living  followed by continual praise. The fruit of our lips gives thanks to God's name and pleases Him. Let's do well and don't forget to express our thankfulness to God. Not only during the Thanksgiving season, but year round while there is still time.  
Times are swiftly changing. Not all receive the gospel message with willing hearts, but some with disdain. We may be despised and rejected as we draw nearer to Jesus' soon return but are we willing to spread the gospel near and far? The praise of our lips bear much fruit when in tandem with sacrificial service. Through Jesus we can "go forth!"
By him therefore let us offer the sacrifice of praise to God continually, that is, the fruit of our lips giving thanks to his name.
Hebrews 13:15